Tarnung als queere Praxis
Während ich auf vielen Ebenen versuche, die inzwischen kaum noch sichtbaren militärischen Wurzeln von so vielen Elementen unserer Alltagskultur zu erkennen (von Redewendungen über Arbeitsmoral, über die riesigen Punkte wissenschaftliche Forschung und technische Erfindungen bis hin zum Schnitt unserer Kleider), stoße ich auch auf Themen, die inzwischen hauptsächlich in militärischen Kontexten auftauchen, aber eigentlich viel ältere Wurzeln haben. Und ich frage mich oder beobachte, wie und ob aus diesen Wurzeln auch ganz andere Sachen wachsen können.
Dazu gehört Tarnkleidung, und der Gedanke von Tarnkleidung als Drag, als eine Praxis zum Fühlen, Verbinden, Spielen, Dazugehören.
C in M, circa 2007

siehe WikipediaObwohl wir Tarnkleidung inzwischen so stark mit dem Militär verbinden, ist ihre militärische Nutzung eine vergleichsweise neue Erfindung und entstand im Zusammenhang mit der Kolonialisierung, da die auffälligen bunten Uniformen der früheren europäischen Soldaten in den Tropen nicht so recht funktionierten. Tatsächliche, ausgeklügelte Tarnmuster wurden weltweit erst nach dem Ersten Weltkrieg für Uniformen verwendet, allen voran das berühmte "Platanenmuster – Herbstfarbe" der deutschen Waffen-SS.
Fundstück, Quelle unbekannt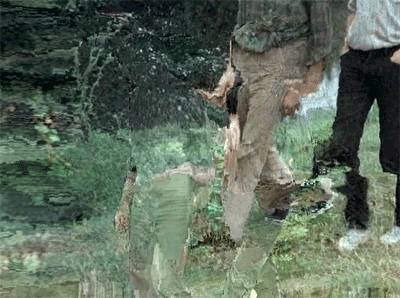 "I very well remember at the beginning of the war being with Picasso on the boulevard Raspail when the first camouflaged truck passed. It was at night, we had heard of camouflage but we had not seen it and Picasso amazed looked at it and then cried out, yes it is we who made it, that is cubism." – Gertrude Stein in ihrem Buch über Picasso Tarnung als solche ist aber natürlich sehr viel älter, deutlich vielschichtiger in ihrer Bedeutung und überhaupt nicht menschenzentrisch – wir haben uns das Tarnen ja vermutlich von den nicht-menschlichen Tieren abgeschaut, und es vermutlich nicht zuallererst in dem Versuch verwendet, uns gegenseitig zu töten (siehe auch die Beutel versus die Speere in Le Guins Tragetaschentheorie der Fiktion).
Tarnung bekommt in queeren Kontexten eine nochmals ganz andere Bedeutung, und stellt Fragen nach Zugehörigkeit zu einer nicht-menschlichen Welt, nach dem sich-auflösen, nach dem aufgenommen-werden, nach der Sichtbarkeit und der Unsichtbarkeit:
aus diesem Post von So Sinopoulos-Lloyd
Queering camouflage; a bit of a redundant statement since camouflage is already an act of shapeshifting, a 'weirding' of personhood itself. Because what is camouflage if not other-than-human drag? What is it if not an icon of the fugitive and the cryptic? What is it if not a mystical ritual of transcendence-with-the-body and not transcendence-from-the-body? We 'pass' as other-than-human: moss, bark, leaves, landscapes. & Even before any pigment is applied, camouflage begins in the mind — we apprentice to the ecologies of attention that etch across every place inhabited by life; we find the 'portals,' the places where animal others tend not to look. We rest there, we sink into the land there, we learn there. (…) we ask ourselves what it is like to choose to be invisible as a sovereign act — as opposed to being invisibilized or hypervisibilized against our will. Here lies the power of the marginal — and it's not just a status imposed on us by society, it's a place on the land — the shadow-shrouded, the edges and the underneaths. For a moment, we feel what it must be like if the earth had eyes. We are her eyes, but she looks through the eyes of many more, the creepers and the crawlers, the stealthy and the hidden. We touch this underworld of awareness, briefly, fleetingly, and we are seduced by a solidarity beyond words.
aus dem Video zu Les animaux sauvages von INFECTICIDE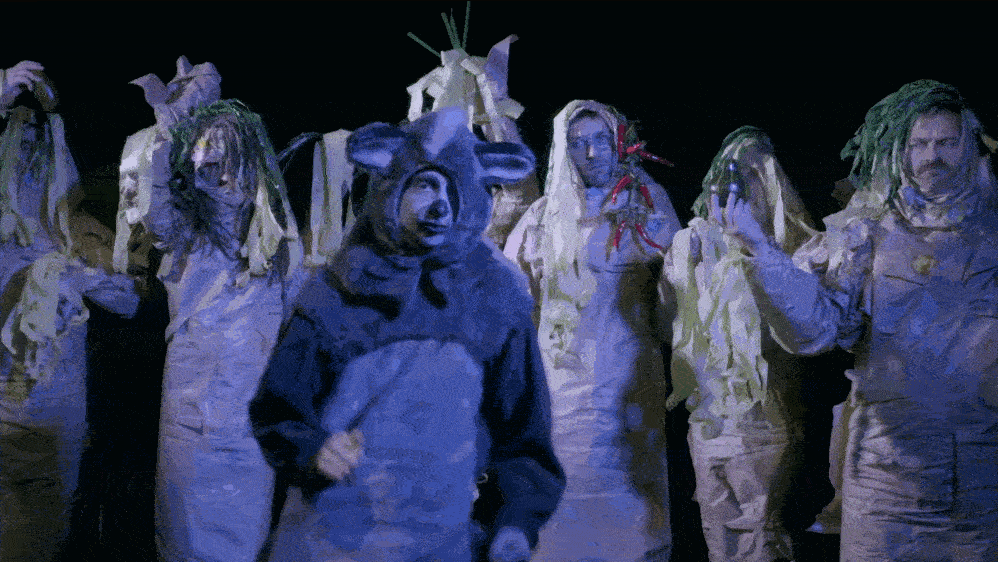 Und hier nochmals So Sinopoulos-Lloyd:
aus dem Essay Tracking as a Way of Knowing
If the intention is not to leave but to enter, not to hide but to belong, relationship with the non-human brings back deep value to human community and enriches culture.